1

How Do You Really Get Noticed?

2

Standing Out, Showcasing Your Unique Experiences and Abilities: More than Bullet Points Resume Building

Proven Strategies to Illustrate your Journey in Bullet Points

Strategically Place Information on Your Resume to Keep their Attention!

Make Your References Count: How to and Who to!

Download: Rachel Balkovec's Current Personal Resume!

Download: 5 Plug and Play Resume Templates!

3

Become a Master Cover Letter Architect by Discovering the Origin of Your Purpose and Refining Your Storytelling Abilities

Your Purpose is Not Helping People. Deep Dive into What Makes You Great and Learn how To Communicate Your Passion in Paragraph Form.

The Cover Letter Evolution: From Impersonal to Truly Authentic in 4 Steps

Download: Rachel's Personal Story Turned Cover Letter! See How It's Done.

Download: 10 Questions to Help You Transform Your Cover Letter to an Authentic Story

Download: Cover Letter and Personal Story Builder

Download: REAL Example of an Excellent Personal Story Turned Cover Letter from VHA Student

4

Email: The Interview Before the Interview

Instantly Connect with the Person you are Contacting: Way Beyond a Subject Line

Download: Four REAL Reaching Out Email Template Examples

To Follow Up or Not to Follow Up, That is the Question!

5

Pro Social: The Secrets to Using Social Media for Good, Not Evil

Craft a Powerful Social Media Bio: The Subject Line of Social Media

Don't Know What to Post? I got you.

Which Social Media Platforms are Important for Professionals?

Hear Directly From a VHA Grad and Current Sports Professional About her Social Media Approach!

Who-To-Follow List (S&C Specific)

6

Pro Headshot: Your Quick Guide to Creating an In-Home Studio and Taking Your Own Head Shot!

You'll be Shocked by the Little Amount of Equipment Needed

Create Your Own Studio at Home with What You Have Already and Take Your Headshot!

Get a Pro Touch for Free: Editing Your Headshot on Your iPhone
This course will instantly improve your abilities to network, apply for jobs and ultimately craft the career of your dreams.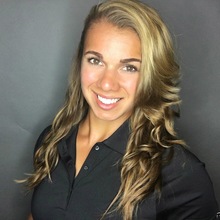 Owner and Creator
Rachel Balkovec
Rachel has been creating, reading and improving resumes and cover letters for over 10 years.  She has been a part of hiring over 20 staff members in the field of strength and conditioning and therefore has a wealth of experience in reviewing professional materials and identifying what really stands out in the crowd.